Overview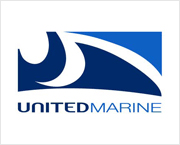 United Marine Company is a Kuwait based marine company established to provide its customer with easy access to the finest Marine Products & Solution, which are available around the world. Our company established to cater the ever-increasing demand for Marina / Dry Storage Facilities in the Middle East Region and for this purpose; we have tied up with several Companies around the World, who have the Experience, Knowledge, and Expertise in this field. United Marine Company is engaged in Designing, Building, & Managing Marina for Customers.
The following below are some of the companies with whom we have business co – operation:



Business Co–Operation
Clement Systems Gulf FZCO

Clement Systems Gulf operating from Jebel Ali Free Zone has appointed United Marine Company as its agents for all kind of floating structures like floating platforms, breakwaters, and pontoons. The unique technology will allows building floating platforms in all dimensions and for all purposes.The platforms may be used as floating houses, restaurants, diving stations, fuel stations, recreation, islands as well as floating bridges and roads.
In addition, United Marine Company is also capable to undertake any size of marina from the design phase to the final installation & management. Weight is our strength as our floating concrete pontoons have a heavy dead weight of their own, thus giving them their excellent stability and wave damping properties.
Vertical Yachts

United Marine Company has tied up with Vertical Yacht Storage System as their Agent for dry storage marina technology. United Marine Company will offer dry storage marina technology both Traditional forklift Operation or Computerized based on Marina owners demand to store any boat from 18' open fisherman to an 80' express cruiser yacht.
The United Marine Company in collaboration with Vertical Yacht Storage System allows you to maximize profits by having the largest and heaviest boats in every rack. The dry Storage marina technology is fully computerized and United Marine in association with Vertical Yacht team offers turnkey development services or technology licensing, architectural, engineering services, marina management, and complete staff training for the safe utilization of your state-of-the-art facility.
Versa Dock

United Marine Company in Association Versa Dock System will delivers consistent waterfront docking value, which will be Safe to use, extremely durable, and infinitely configurable. United Marine Company will easily satisfy a wide range of residential and commercial needs. The characteristics and quality set Versa Dock apart especially when it comes to Drive-on docking. Unlike other docks which are constructed from wood and metal. Versa Dock is constructed using a high "molecular weight polyethylene", which are capable of dealing with the most demanding environments.
United Marine Company can say with pride that our commitment is to quality, reliability and speed. United Marine Company which was launched recently but in a short span has business association with many companies around the World to make available the best possible Marine products, Solution, Accessories… etc to its esteemed customers. We are committed to providing high quality service characterized by integrity, economic benefits, accountability, and responsibility to the clients we serve.